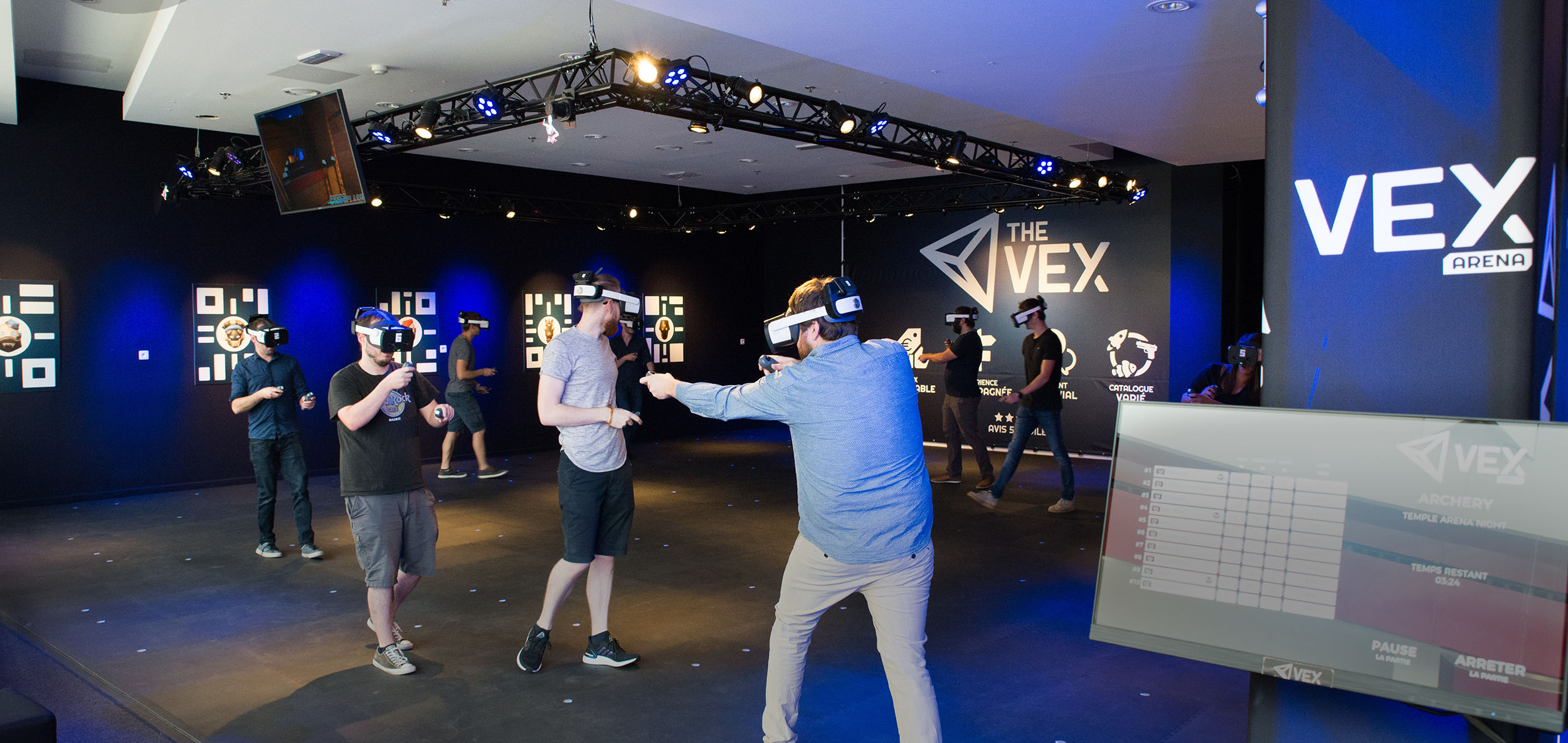 How can you take advantage of VR + Esports to benefit your business
Have you already thought about adding an esports segment to your business? Following the recent announcement of the VEX Esports League we wanted to dive deeper into the subject. Almost half a billion people interact with esports annually while the revenue from this industry keeps growing, expected to top more than 1.2 Billion $ in 2021, on track to surpass Formula 1 or UEFA Champions League revenue. Esports can clearly benefit your business by attracting new customers but how can you take advantage of it?
Leaderboards and tournaments
The two biggest parts of esports are the competition and the social aspect. Start by hosting local tournaments that will draw new customers and increase your exposure. They can be daylong or even weeklong endeavors for your center.
The VEX Arena lends itself perfectly to this task since it was designed with esports in mind. With its included leaderboard, it's easy to see who is the best player of the day, week, month or even year. Moreover, considering those leaderboards can easily be implemented on your website, they're conveniently shareable which creates competition between players, and, in turn, boosts the repeat plays of the attraction: of all the VEX Arena players, 40% come back for more.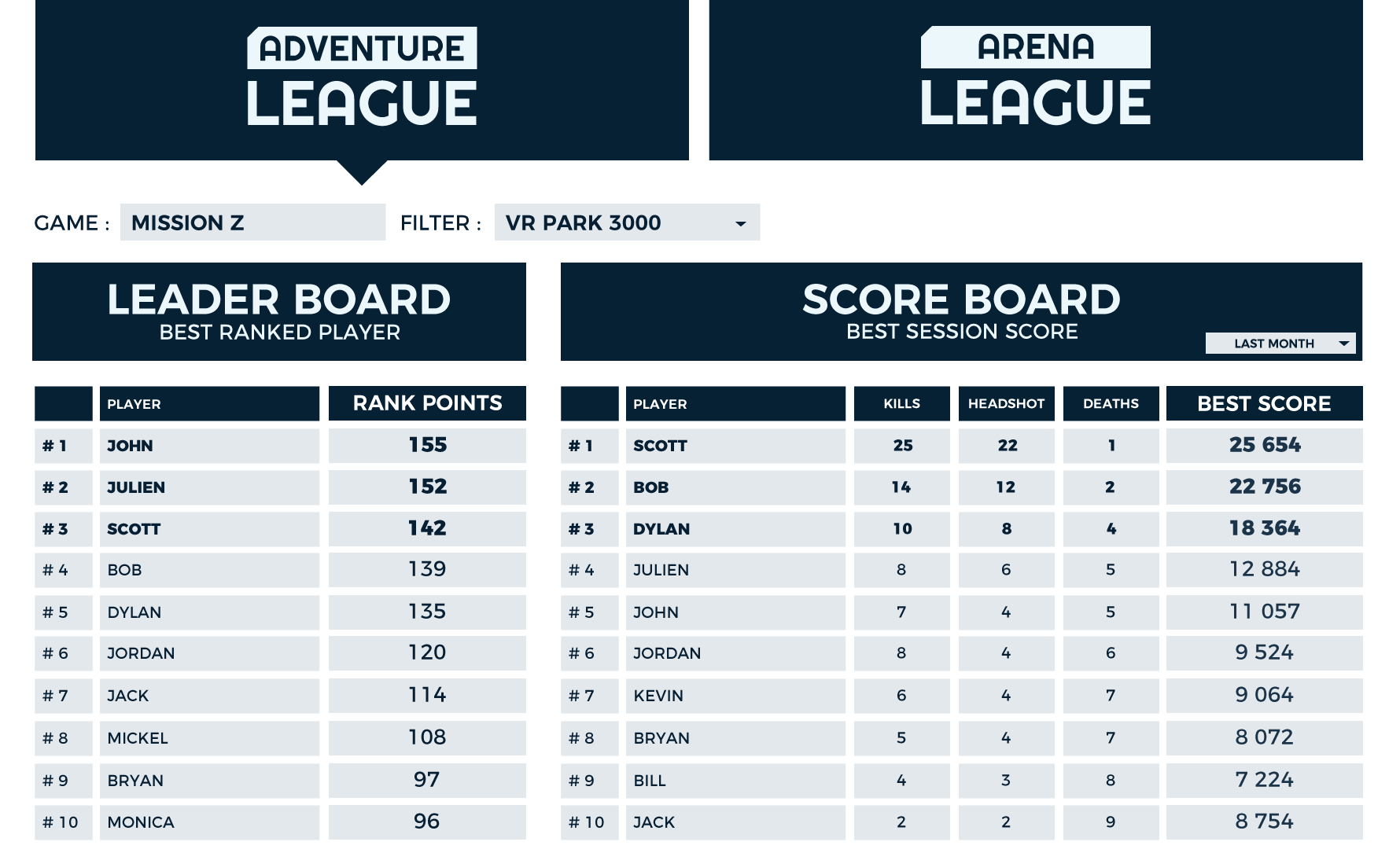 Put the sport back in esports with free-roaming!
With the addition of free-roaming technology, which lets you move around freely while exploring your virtual environment, no more need for attractions that keep you standing still or devices that can cause motion sickness.
With the modular VEX Arena, your customers will battle each other on a free-roaming area that starts from a compact 16m²(175ft²) up to 100m²(1100ft²) for 10 players. This represents less than a quarter of your typical laser game maze. Moreover, VEX Arena doesn't require tedious and heavy equipment to be enjoyed to its full capabilities, just put your autonomous headset on and you're in the game. The younger audiences can now enjoy the Virtual Reality possibilities!
Finally, where there is competition, there are spectators. An esport activity is something that you share with friends, that's why all of VEX's attractions include a spectator view of the current game to engage the onlookers as much as the players. This adds up to the global appeal of the whole attraction.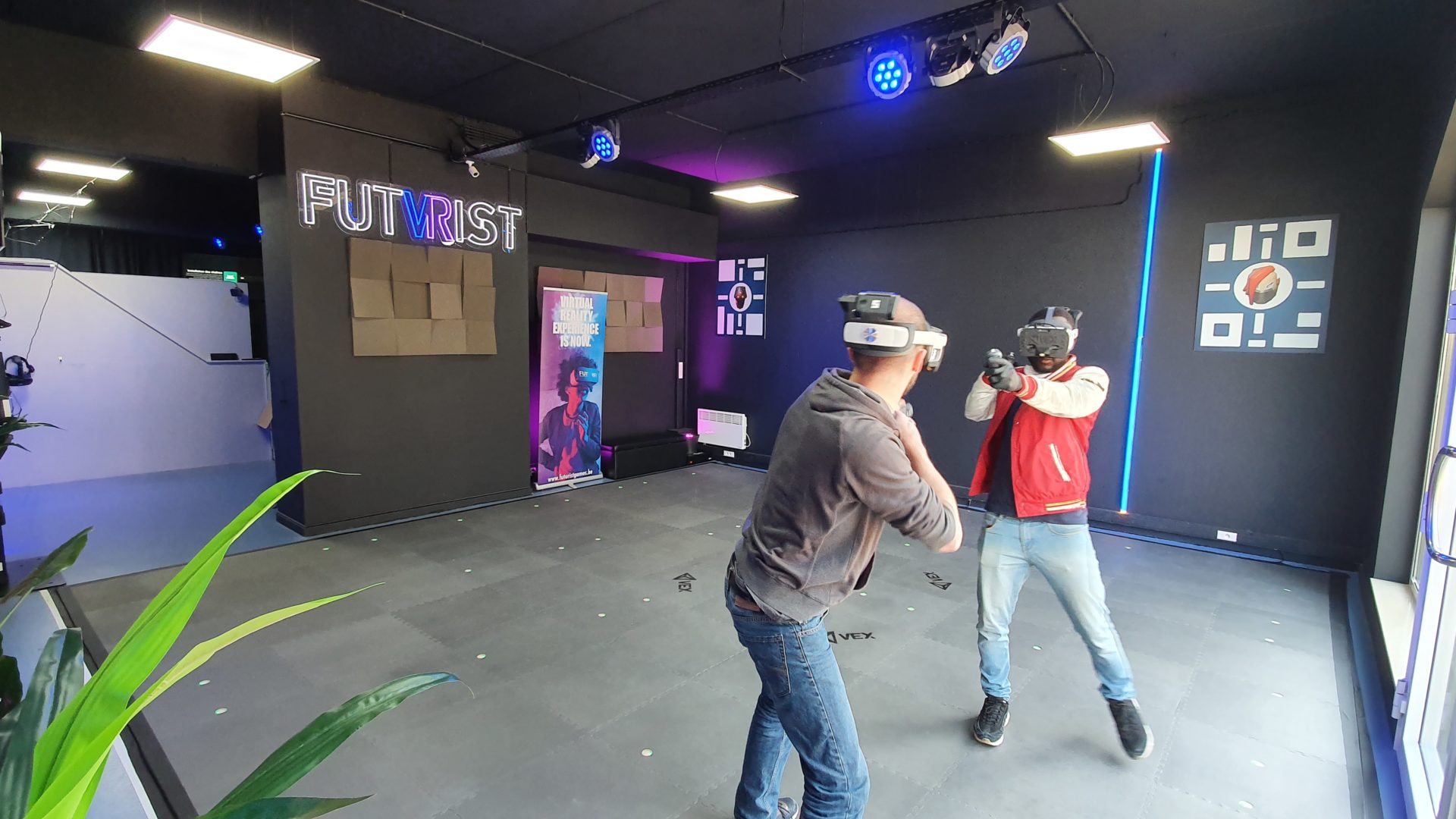 Combining esports and adventure?
There are multiple ways to take advantage of esports to benefit your center. First of all, you don't need to have a player vs player experience to have an esports activity. In fact, the earliest esports started with arcade machines in the seventies. At the time, getting the highest score was the holy grail. With the help of the VEX Adventure leaderboards, teams of players can confront each other in order to get the best score while keeping the thrilling and memorable experiences the VEX Adventure offers.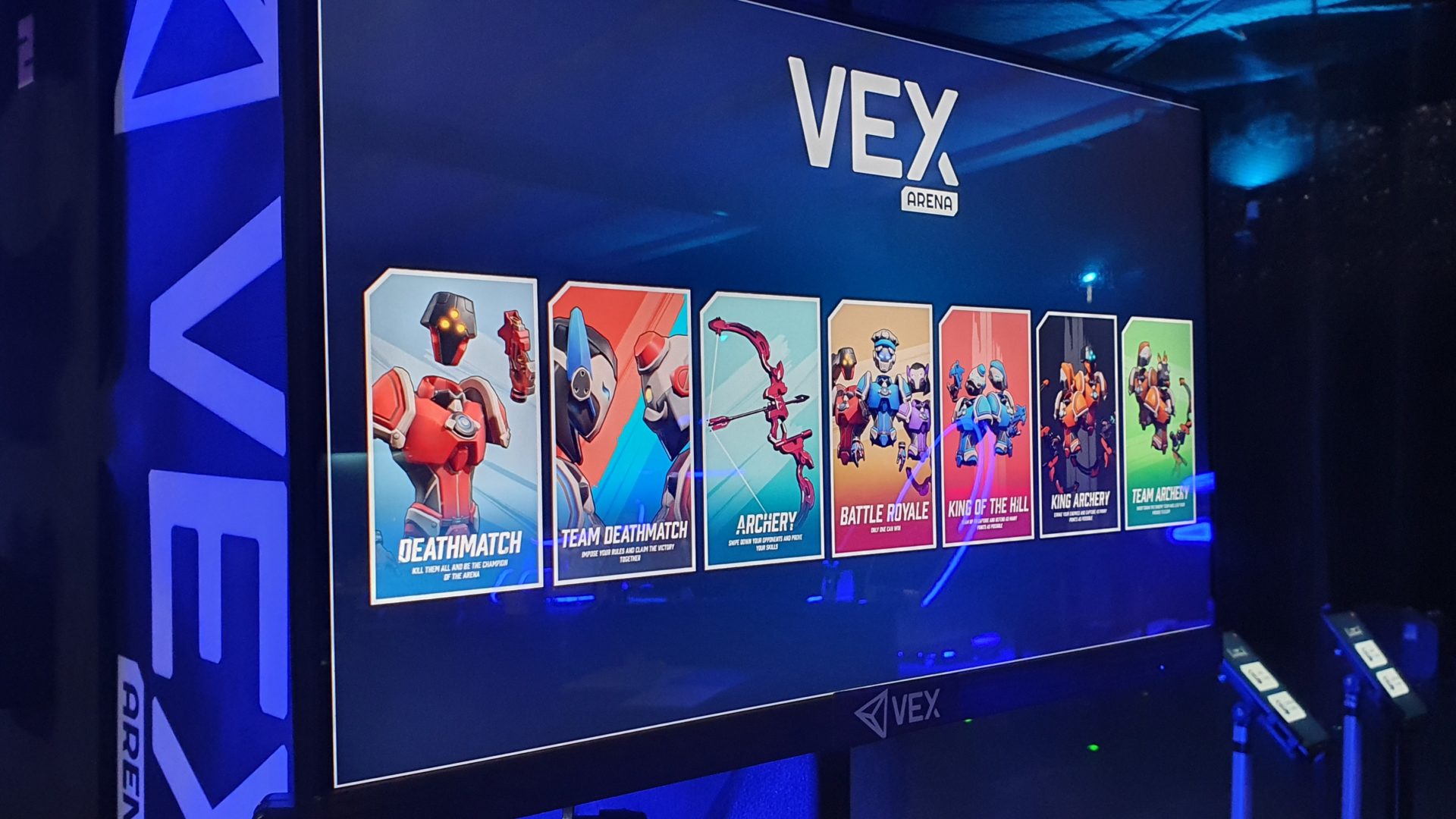 Take your esports arena out for your events
Why wait for customers to come to you when you can directly engage with them by moving your arena where the competition needs to happen like public, private or corporate events. Just like esports is not only about playing in certains places, our VEX Arena VR esports attraction can be moved for events !
With the special Mobile version of the VEX Arena, you can easily transport and set up your free-roaming VR esports experience wherever you need to. This VEX Arena Edition comes in its flight cases for ease of transportation and installation. No need for vendor technical teams anymore, those flight cases ensure reliable and sturdy transport of the plug & play system.
This one of its kind system allows a true free-roaming VR experience with high throughput and esports integration on all your events.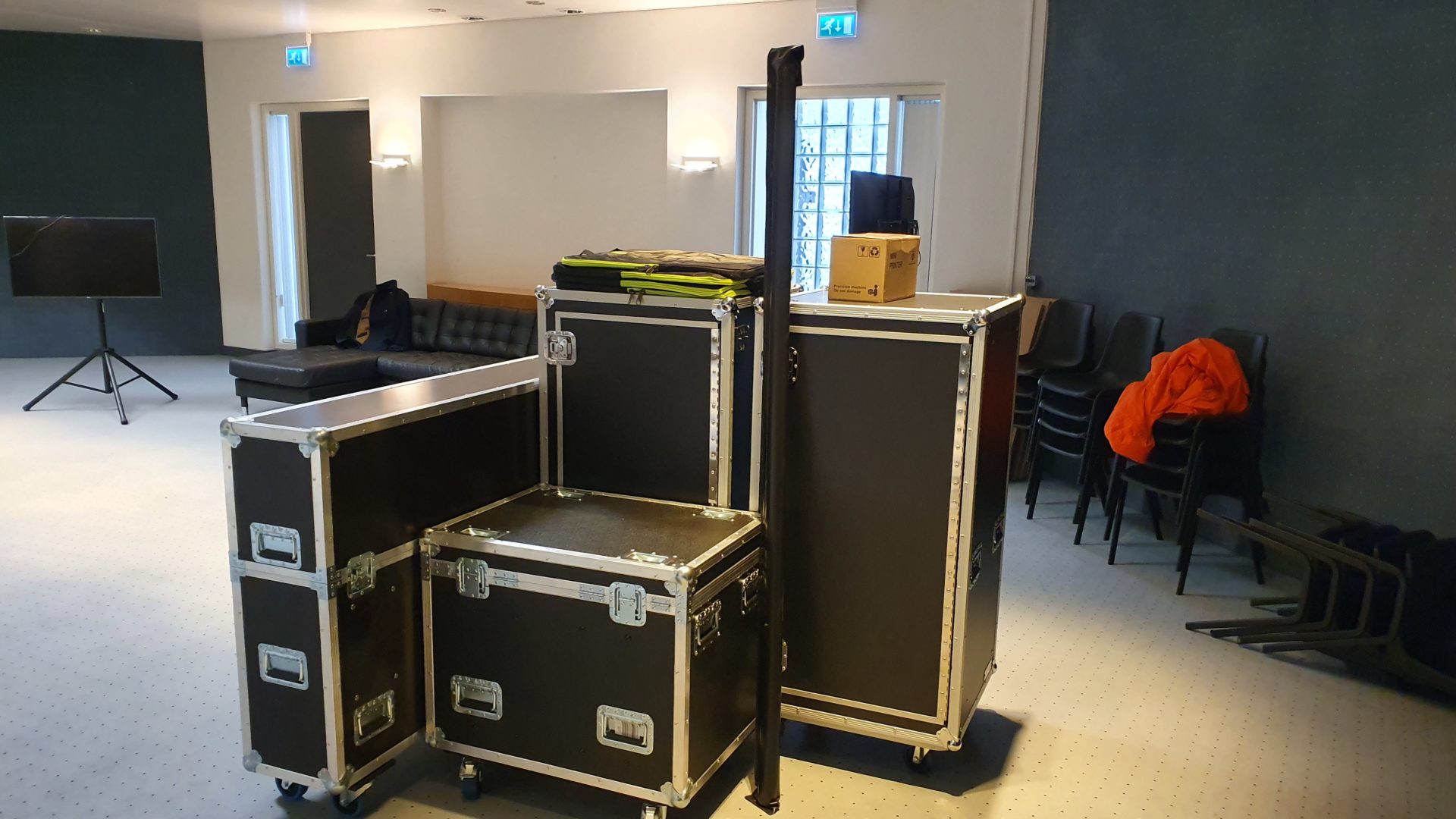 New customers mean more revenue
Those new customers coming in, maybe even for the first time, will stay at your center and spend money on your esports attraction but also on beverages, food, and other activities which, in the end, grows your revenue. If they're satisfied with the experience they had they will most likely come back for more.
In addition, when your customers self-register, you get their data and they get emails detailing their score and updated ranking. Players also receive an automatic survey to give their feedback on their time at your center. With this acquired data, it's even easier to launch email campaigns targeting these specific players in order to promote upcoming events at your center.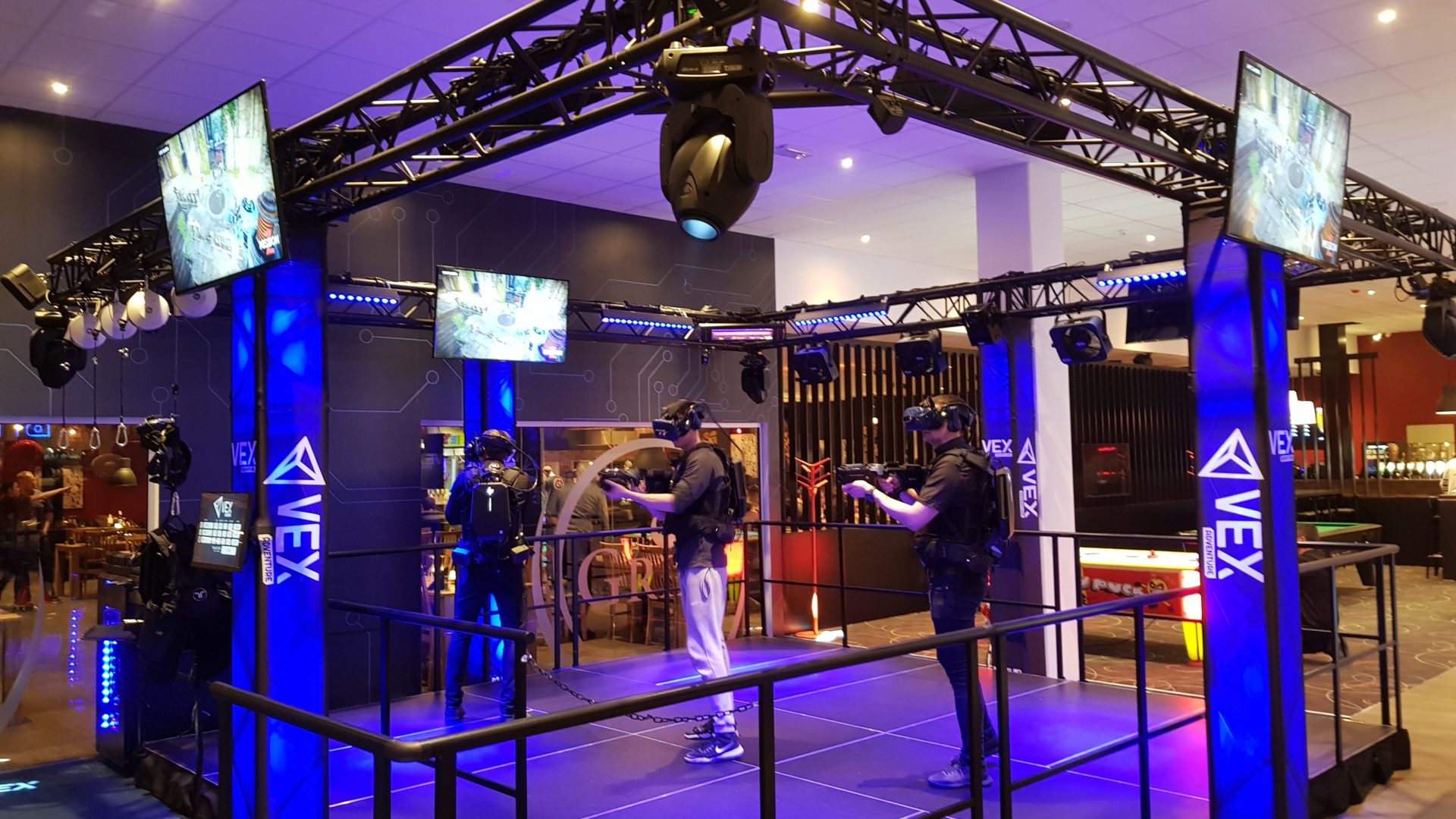 In the end, esports is a great tool to bring traffic, exposure and engagement to your business.
You just need to find the best way to make it work for you.
Published on November 30th 2020