Each year, VEX Solutions runs a survey across all VEX players and collects amazing insights from thousands of participants about the market's trends and needs. The analyzed data, coupled with VEX's 4+ years of experience as VR operators, have helped us forge a powerful knowledge database and expertise.
In 2020, we released our e-book "How to make money with VR ?", since then considered as the reference guide to success in VR and often pictured as such in the press.
In this guide, we answer basic questions like "Why choose location-based VR?" or "How to make money with VR", and we also tackle more complex subjects such as "How to choose the right VR attraction for your business ?".
Fill in the form below and get 4+ years of experience packed in a 50-page digestible format!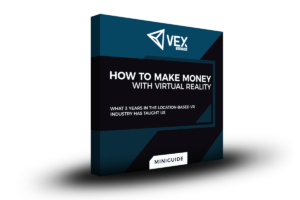 * These fields are required.