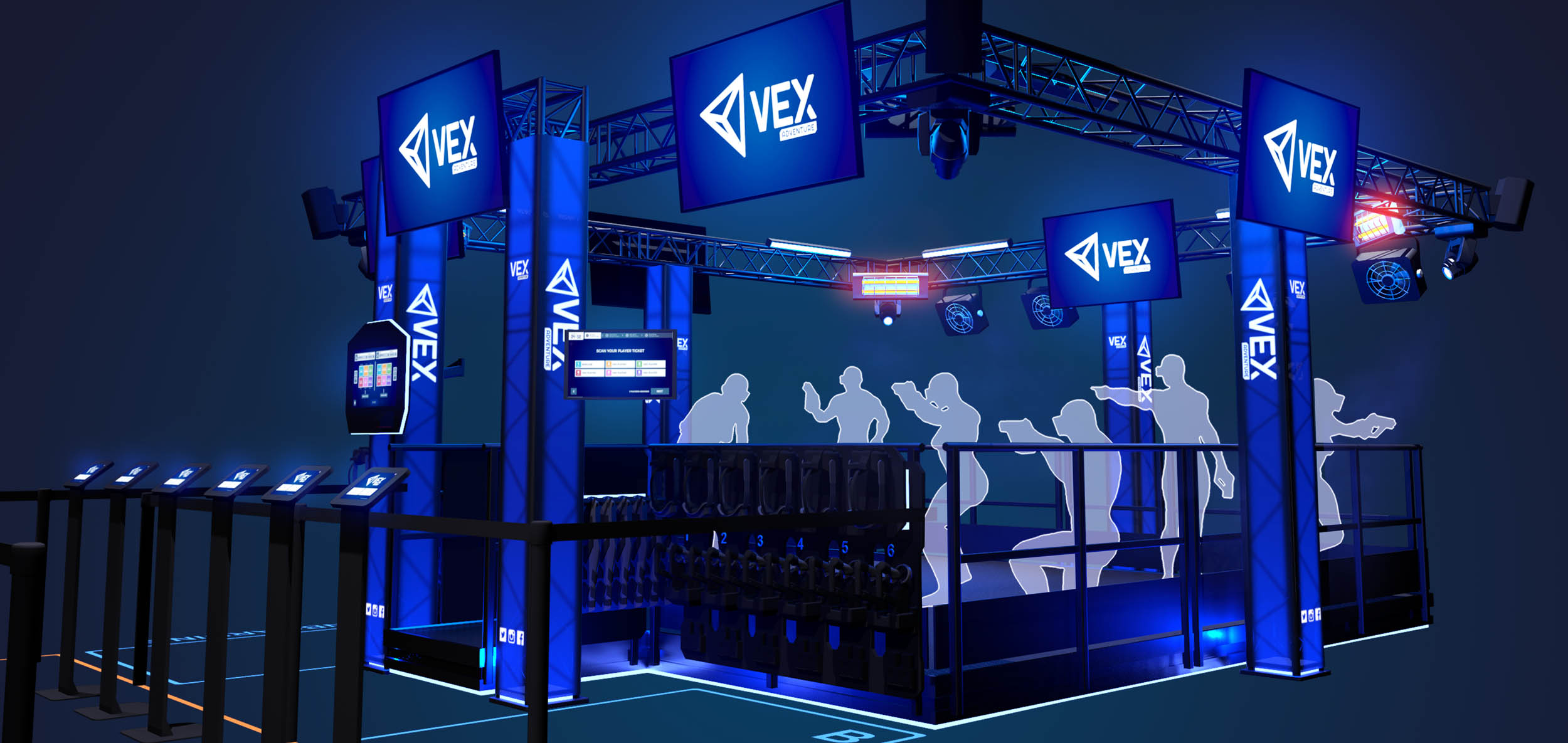 VEX ADVENTURE 2.0 : Hyper-Reality at its best
Always at the forefront of innovation, VEX Solutions is once again spearheading the hyper-reality industry with its newest product: the VEX Adventure 2.0. This big upgrade now accommodates up to 6 players at the same time, replaces backpack PC with top-of-the-line lightweight headsets, optimizes the operational efficiency, and enhances the guest experience all while delivering the same high-quality adventures the attraction has always been known for.
An upgrade 4 years in the making
With a background as operators and owners of entertainment centers we always had a unique perspective on the market. We knew that to bring new people in and to make them come back would require experiences truly unachievable at home. That's why we focused on hyper-reality from the start which lead us to develop the VEX Adventure over 4 years ago.
Thanks to the feedback from our clients and our own day-to-day experience operating the attraction over 4 years, we decided to tackle LBVR attractions' usual pain points: efficient operation, optimized throughput, and enhanced guest experience.
This all brought us to design the VEX Adventure 2.0, let's explore what is new and what has been upgraded.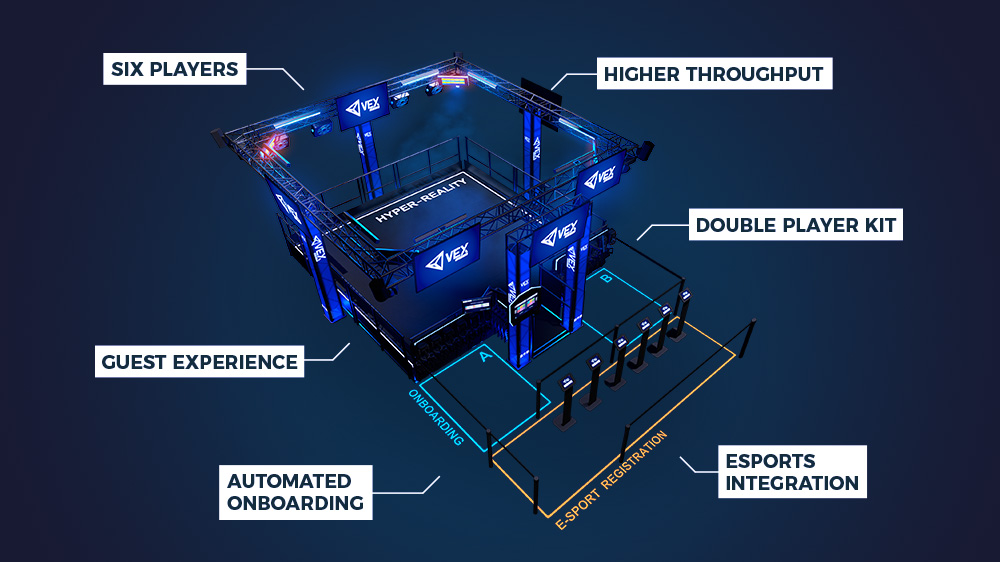 TWICE THE THROUGHPUT AT THE SAME PRICE
Up to six players can now play at the same time, this increases VEX Adventure's throughput by 50%. Looking for more? You can add a second player kit to more than double it and reach up to 36 players per hour.
NO BACKPACK, NO STREAMING, NO COMPUTER
Thanks to VEX's highly optimized software, we are now capable of offering high quality experiences without the need to use heavy backpacks or unpredictable streaming technology.
AUTOMATED ONBOARDING
Operators are assisted with their onboarding process thanks to the addition of tutorial and presentation videos. The onboarding process is cleverly timed and segmented in order to increase operation efficiency.
ENHANCED GUEST EXPERIENCE
Offer your guests the experience they deserve with the help of self-registration. Once registered, they can compete in esports contests, their session will be personalized, they get a souvenir picture and receive dedicated emails related to their adventure.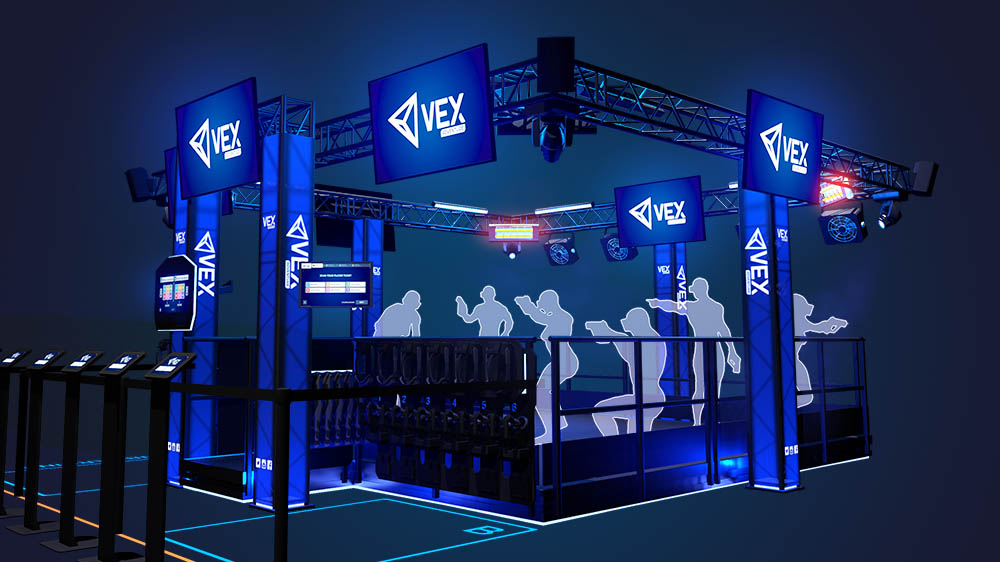 The Adventure family is getting bigger
The VEX Adventure has never been more fitting for entertainment centers around the world. With two additional formats, the best-selling hyper VR attraction becomes more affordable and more compact than ever before. This has been made possible through the use of top-of-the-line technology in combination with VEX's highly optimized software.
STANDARD
The VEX Adventure in its fullest form. Everything is included in this top-of-the-line attraction that offers the best experience to your guest and gives an enticing show to onlookers.
LIGHT
An equivalent player experience at an affordable price and on a smaller footprint.
ESSENTIAL
The most affordable Hyper VR experience on the market.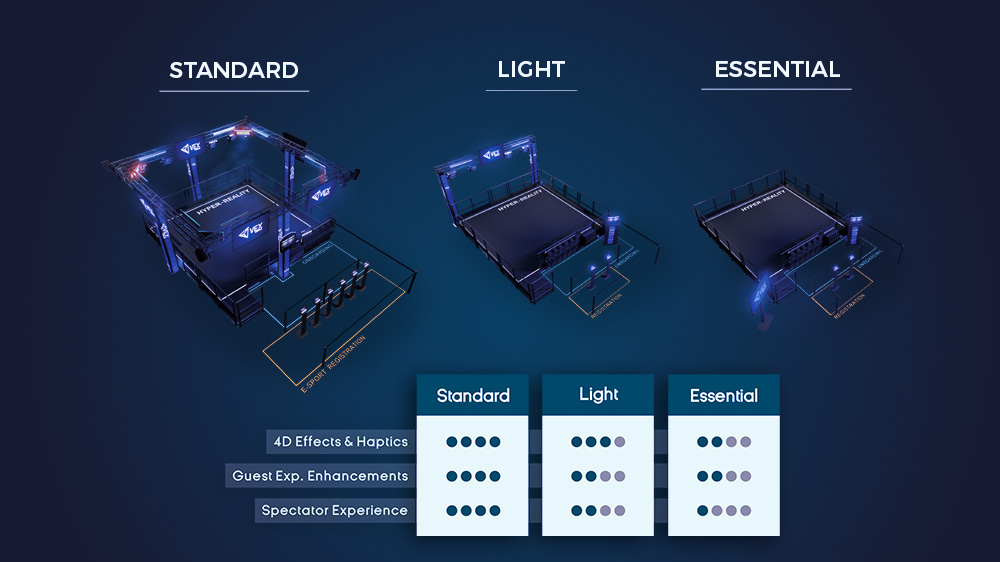 Our commitment to the future
VEX is in it for the long run. It is in our spirit to enhance, upgrade, and continue supporting our flagship attractions as time goes on. Concretely, for operators, it means that their attraction's service life is extended, they evolve at the same time as technology does and it makes sure their system never becomes obsolete.
During this pandemic, despite most of our customers and our own centers being closed, we kept on developing new features aimed at increasing repeat visitations and bringing new guests in. The VEX Esports League, our automated marketing suite, in-depth analytics tools, 4 new games, and more small updates were all developed in the last 18 months and have already been proven hits with our customers and their guests.
With the VEX Adventure 2.0, we are committed, once again, to providing the best hyper VR experience for guests and operators alike.
We are always looking at adding new ways and additional features to help our current and future customers turn their VR projects into successful endeavors.
Come see the future of Hyper-Reality and try it for yourself at the IAAPA Expo next week! 

Published on September 22nd 2021